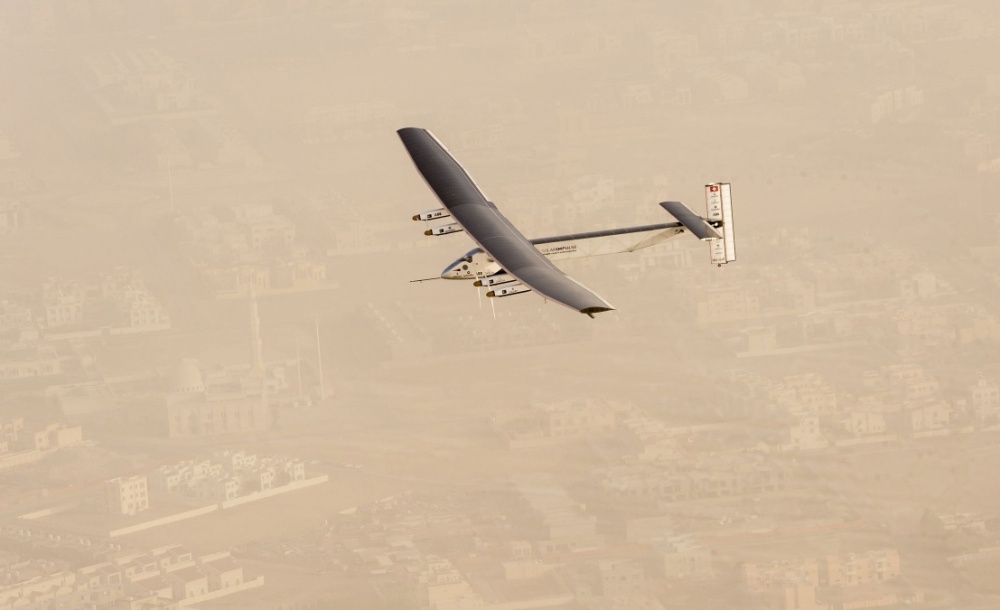 The Future of Solar-Powered Air Travel
The Solar Impulse 2 set off on March 9 – the long-winged plane departed Al Bateen Executive Airport in Abu Dhabi, United Arab Emirates on a mission led by two pilots to be the first of its kind to travel powered only by the sun. Carried by André Borschberg and Bertrand Piccard, the goal is for the plane's four propellers to garner enough solar power to circumnavigate the globe over the next five months, making the 77,000-mile-long journey in 12 flights over 25 days.
Their success would mark the first around-the-world journey traversed in a solar-powered aircraft, and they've set stops in China, the US, Europe, North Africa, and India. In each city, they'll work with governments, schools, and NGOs to spread awareness and educate people about clean energy. If all goes according to plan, it will be the second time Piccard has traveled around the world; in 1999 he and another man completed the first-ever nonstop trip around the world in a balloon in just 20 days.
According to Quartz, the Solar Impulse's design is far cry from the luxury airliners you're used to seeing. It spans 236 feet, weighs 5,070 pounds and is loaded with 17,000 solar cells in its wings to capture the sun's energy to use for power. The most recent assessments state the plane's speed at just 140 kilometers per hour.
A live-stream of the plane and its pilots' journey can be found here.