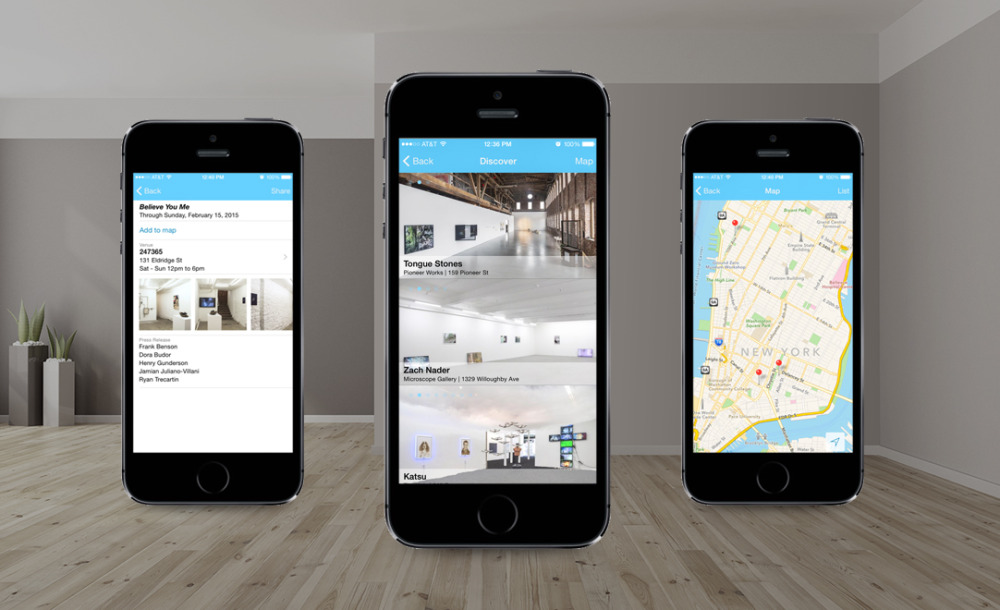 See Saw, The Art World's Best App
See Saw, an iPhone app mapping out gallery openings and exhibits by neighborhood and opening date, has catapulted to the forefront of the app scene, pushing out its expensive, high-profile competitor as the go-to option for gallery enthusiasts. In a candid interview with the New York Observer, the app's creator, Ellen Swieskowski, shared where the inspiration came from – and how she's unintentionally taken over the social art scene.
"It just kind of occurred to me when I was walking around in Chelsea," she shared. "I would flip through Artforum and have a running list of shows I wanted to see, and I would make a list, write them out, and arrange them South to North in Chelsea, but everything has been updated, and the art world is really lagging behind. It's almost like those goofy Seamless ads — why call someone and give them your credit card information when you can just type it in?"
And so See Saw was born. After first launching in the app store, Swieskowski shared it was word-of-mouth and smaller galleries that helped spread the word. "The smaller galleries in Brooklyn can get really excited about it. I think galleries in Chelsea just expect to be on it, but there was this small gallery in Brooklyn that I added, and I happened to be in the neighborhood for the opening, and I went in and they were like, 'We love you! Can I give you a hug!' I felt like Taylor Swift."
See Saw cuts through the confusion most moving galleries leave, unintentionally, in their wake. Is it on Essex Street or is it Essex Street the gallery? Is 47 Canal the destination or the name? Swieskowski aims to dissipate the confusion and offers enthusiasts a concrete, fool-proof plan instead.
Though she has no plans to make money, introduce ads or scale any long-term partnerships in the near future, See Saw is headed to the west coast. "We want to get to L.A. pretty quickly, and there's nothing stopping us," Swieskowski shared. "In terms of how many galleries we'd have to enter, L.A. is just another Brooklyn."