Mykonos: The Greek Answer to Ibiza
Looking for an ideal summer getaway with beautiful views, amazing beaches, and a one of a kind party atmosphere? Look no further than Mykonos, Greece. An island also known as "Greece's answer to Ibiza," Mykonos reels in some of the most sought-after artists and DJs from around the world to their many large dance clubs and beach bars. Even for those not looking for an amazing party scene, Mykonos has much more to offer. With up to 25 beaches, this island is made to suit any visitor's needs. Whether that need be a calm, and relaxing beach or one filled with other party-goers. The Mykonos dining experience is also one to note, and one that draws in many guests around the globe. Getting to this small, Greek island may not be as difficult as one would think, despite travelling in the peak summer season. If you are based in London, flights via Easy Jet will run anywhere from 175 to 275 pounds depending on the date of travel. Flying with British Airways, your flight will cost around 500 to 600 pounds, but includes times that are much more manageable than Easy Jet and a more reliable service. Further on, we will list off our highlighted restaurants, clubs, beach bars, and other notable destinations that will make any trip to Mykonos one to remember. Whale offers hospitality benefits to our members, past experiences include Mykonos and the many amenities that come with it. Apply for membership here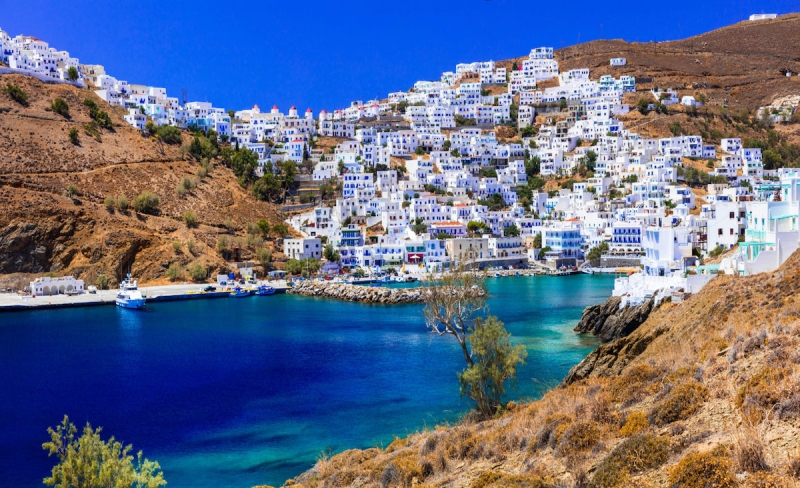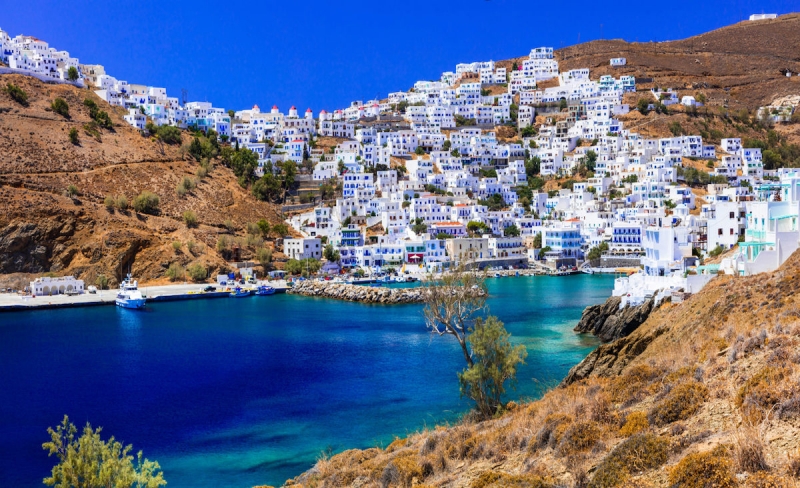 Places to Stay in Mykonos
Sitting right on the western shore of Mykonos is Cavo Tagoo, a state of the art, 5-star hotel that boasts the highest of praise. Recently, Whale organized and invited guests to experience all the talk about Cavo Tagoo. The resort includes an infinity pool with a 40-metre aquarium bar, spa and indoor pool, buffet breakfast, and a fantastic restaurant serving Mediterranean cuisine. It is certainly a picturesque destination. Another gorgeous accommodation for guests is the Mykonos Blanc Hotel, located in Ornos Beach, south of Cavo Tagoo on the western shore. The Mykonos Blanc sits right next to a public beach where guests can relax in one of the many sun beds and enjoy a drink overlooking the beach views. Wait service constantly makes their way around to guests around the beach and pool area. Complimentary transportation to and from the airport is also included in your stay. Free parking, buffet breakfast, pool access and many more amenities are also included. Look for these two of our favourite hotels when visiting the island.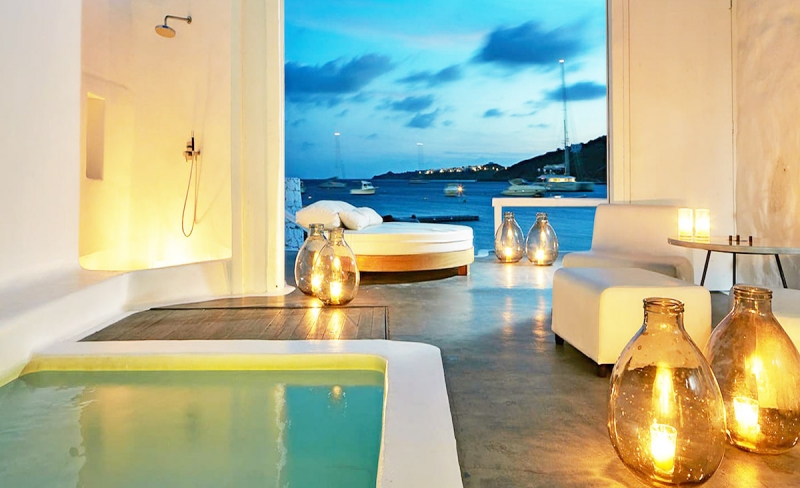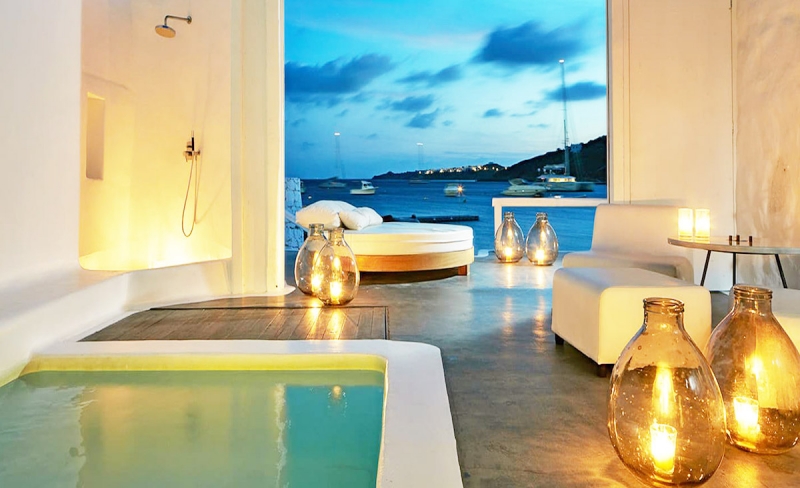 Where to Eat in Mykonos
Our featured restaurants highlight the best of the best in Mykonos whether your ideal spot is a high-energy beach bar or a relaxing place to eat over a glass of wine. First off is Nammos Restaurant by the Sea. Nammos is a popular destination among previous Mykonos visitors due to their fine select meats and fish fresh from the Mediterranean. Nammos offers beachside dining and cabana options as well. Once the evening sets in this restaurant turns up the music and transforms into an upbeat beach bar serving a plethora of mixed spirits and beer. A schedule of parties and guest appearances are also up on their website for those who would like to schedule a visit around one of their many parties. Kiki's Tavern is the next restaurant on our list. Kiki's lacks the prestige of many of the listed destinations, but makes up for it with their quaint location, splendid menu, and once in a lifetime views overlooking the sea. Kiki's Tavern is located on the north side of the island on the Agios Sostis Beach. This restaurant is labelled as cosy and comfortable and is a desirable location for children as well. Scorpios is our next restaurant that provides the highest of class in Mykonos. World-renowned Chef Alexis Zopas puts together an ideal Mediterranean-based menu that has raised high praise across all Greece. Zopas focuses on the idea of Mediterranean diet, not solely by the ingredients, but also by the way they are presented and tasted. Scorpios lays on the southern shore of Mykonos and faces out onto the Aegean Sea.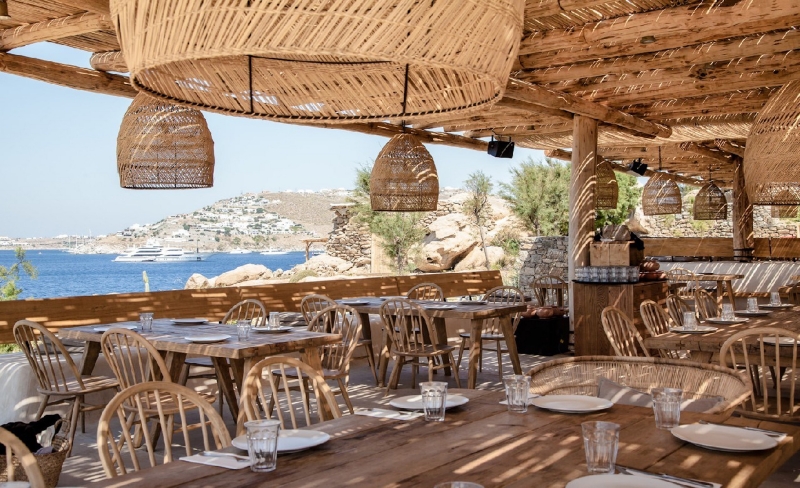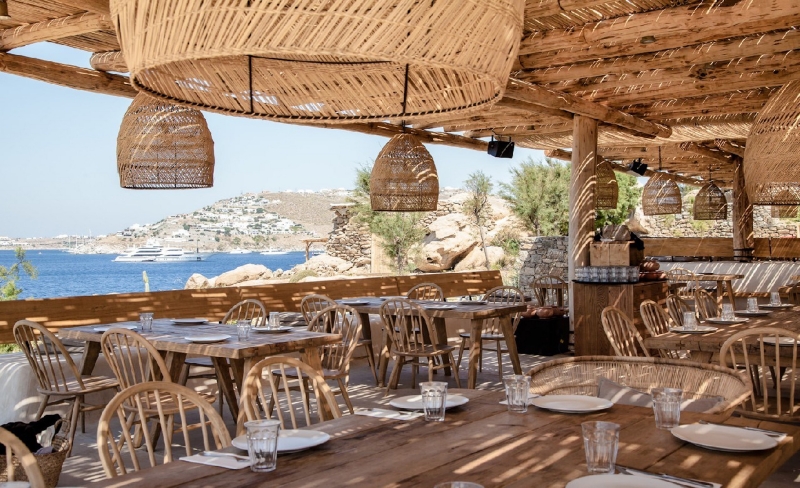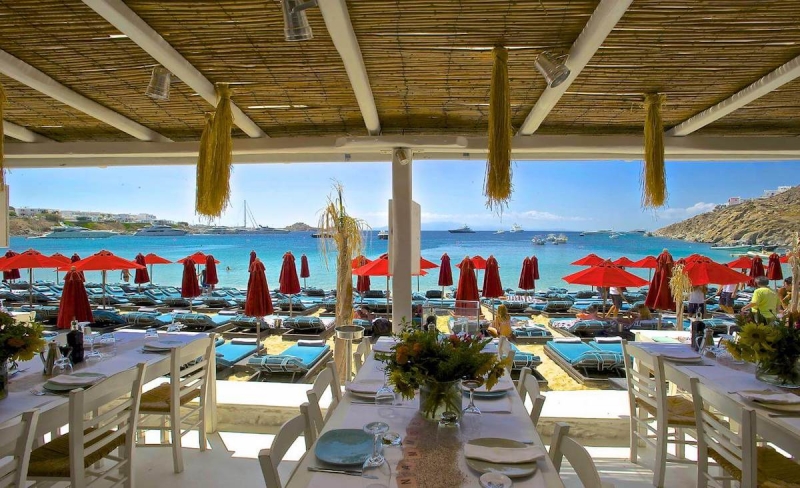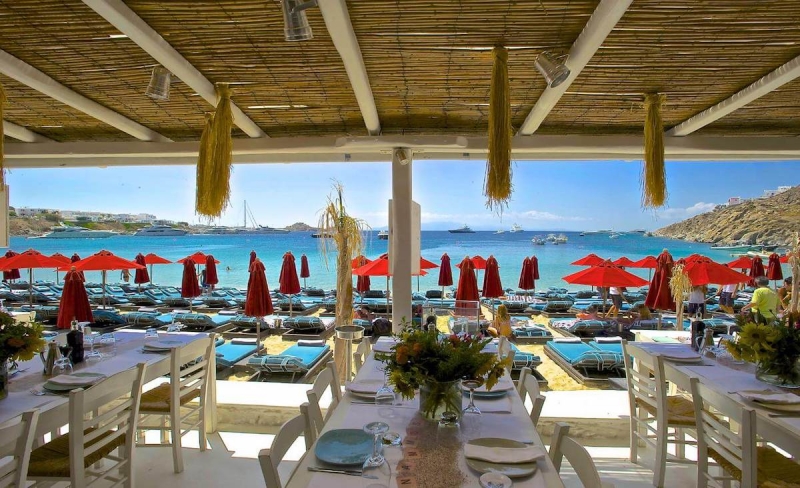 Clubs and Nightlife Events in Mykonos
As a stable destination for the nightlife experience, Mykonos has a plethora of incredible clubs and other nightlife destinations. Starting off the list is Void. Hosting many of the top DJs from around the world on their summer lineup, Void is the place to go for any big-time party-goer. Void includes three levels of distinct attractions for guests. Floor 01 hosts 2 large bars and a vast space for dancing below the DJ booth. For VIP tables overseeing the dance floor, floor 02 covers multiple tables ranging in size to accommodate any type of guest need. Finally, at level 03, large reserved booths, which hold up to 30 guests, overlook the best view of the venue.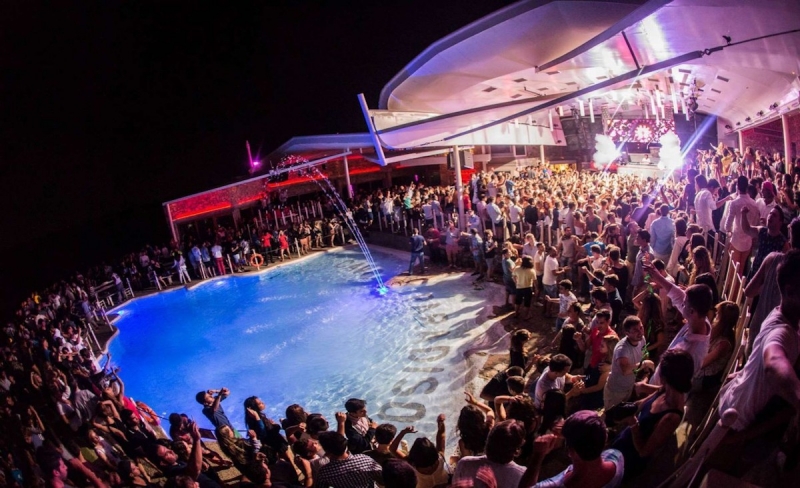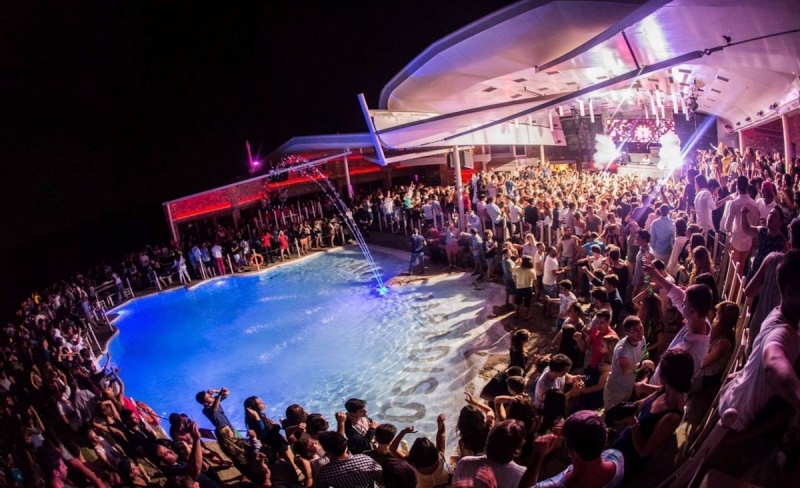 The next nightlife destination comes Cavo Paradiso. Since opening in 1993, Cavo Paradiso has hosted over 2100 events and 340 artist performances. This club rests on a 150-foot cliff overlooking the Aegean Sea and the views are absolutely stunning. Being one of the most well-known clubs in Mykonos, during a peak summer night crowds will pack into Cavo Paradiso. This summer's lineup includes R3HAB, DJ Snake, Diplo, and Steve Aoki. For more information about how Whale gaming and its hospitality benefits send us an email on info@whaleglobal.com or check out our website, Whale Global.