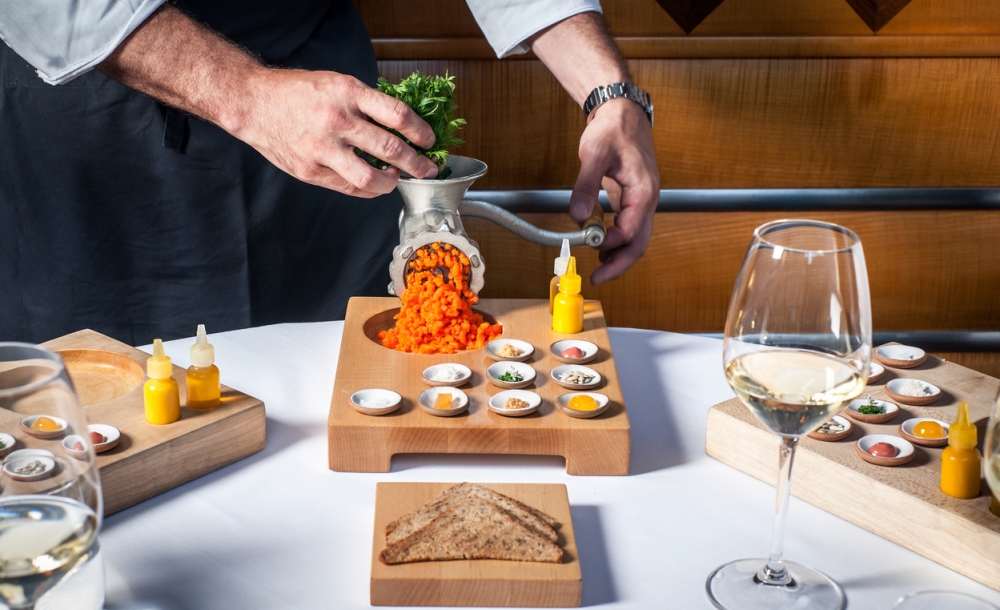 Eleven Madison Park Named World's Best
It's been 13 years since an American restaurant took home the coveted honor of being named the world's best restaurant, but this year, Eleven Madison Park has finally lifted the spell. The restaurant, which came in at number three on last year's list compiled by the World's 50 Best Restaurants organization, unseated Osteria Francescana in Modena, Italy, last year's award winner, and the El Celler de Can Roca in Girona, Spain, which topped the list in 2013 and 2015, according to The New York Times. Osteria Francescana and El Celler de Can Roca were named the number two and number three restaurants in the world for 2017, respectively.
Detailing what makes the restaurant so "special," the World's 50 Best Restaurants Organization noted that Eleven Madison Park is the "perfect partnership of outstanding hospitality and exquisite food in an iconic setting in New York City." Adding, "Co-owners Will Guidara and Daniel Humm have put their lives into breaking down the walls between dining room and kitchen, making sure the customer experience is harmonious from start to finish." Some of its most noteworthy dishes include Humm's signature roasted duck, which takes on many forms: classic honey and lavender and honey-glazed with turnips and huckleberries, to name a few; as well as the celebry root cooked in pig's bladder.
The list, which boasts restaurants from more than 22 different countries, featured a litany of American-based restaurants this year, including Blue Hill at Stone Barns in Pocantico Hills, New York (which came in at 11), Saison in San Francisco, California (37th on the list), Cosme in New York City (listed at 40), Le Barnardin in New York (ranked at 17th), and Alinea in Chicago (which earned the 21st spot).